SHOP
The Tap Yard — Waukesha Tap Takeover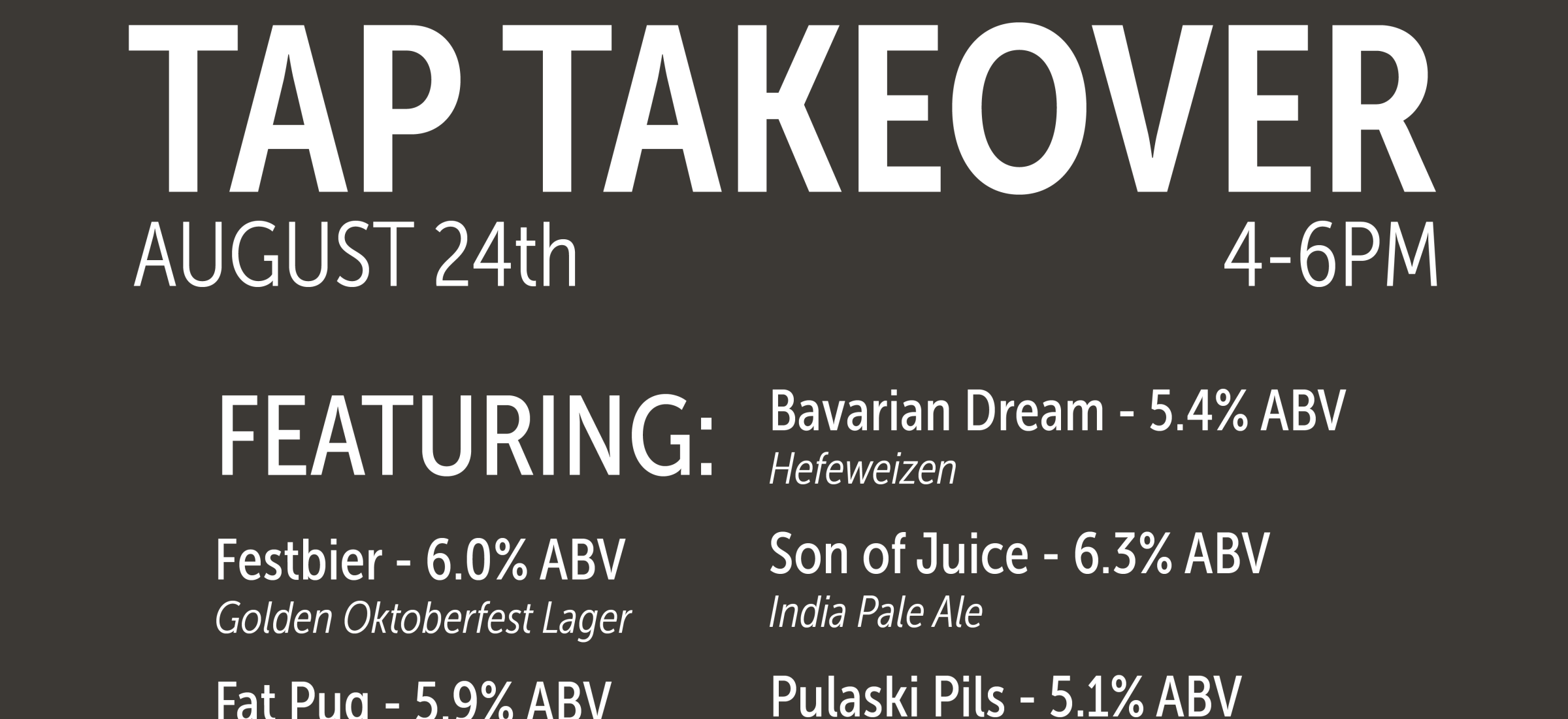 Draft List:

Son of Juice - India Pale Ale - 6.3% ABV - Bursting with notes of tropical fruit, Son of Juice features loads of Mosaic, Mosaic Cryo, Simcoe, Simcoe Cryo, and Nugget hops. Pilsner malt and oats lend to a soft body and some haze, making for a juicy, low-bitterness IPA.
Juice Jorts - Hazy Pale Ale - 6% ABV - Juicy pale ale double dry hopped with Citra & Azacca and El Dorado hops. If we didn't already cut the legs off our pants they'd blow off from the aroma!
Fat Pug - Oatmeal Milk Stout - 5.9% ABV - With welcoming notes of dark chocolate and coffee, this Milk Stout combines a variety of roasted grains to produce a complex yet mellow flavor. Fat Pug is rounded out with sweetness provided by lactose and is named in honor of our Head Brewer Adam's pug, Otto.
Bavarian Dream - Hefeweizen - 5.4% ABV - It's a Hefe! Notes of clove and banana; effervescent and quenching. German wheat and pilsner malt provide a bready crisp finish. The lighter ABV makes this perfect for hot weather. We encourage you to serve with an orange wedge.
The Sound - India Pale Ale - 6.5% ABV - A West Coast style IPA hopped with Simcoe, Centennial, Chinook, and Amarillo Cryo. Brewed with malt and hops both grown near the West Coast. This IPA is bright and citrusy with hints of pine and resin.
Festbier - Oktoberfest Lager - 6% ABV - A super-drinkable lager that can be swigged or sipped during your end of summer festivities. Our festbier is bold in flavor without being too heavy; expect elegant malt notes with a crisp finish. PROST!
Pulaski Pils - Dry-Hopped Pilsner - 5.1% ABV - This crisp, light-bodied lager is brewed primarily with Pilsner malt, and just a kiss of Vienna, then lightly dry-hopped with Santiam hops for pleasant floral notes. Together these ingredients create an exceedingly drinkable Pilsner, properly lagered for beer drinkers everywhere.
View All Events